Acryee® Technical Specifications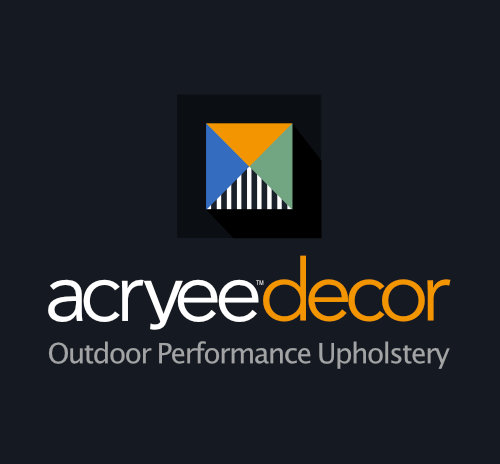 | Characteristics | Acryee Marine & Awning | Certification / Standard |
| --- | --- | --- |
| Unit Sale | Full Roll or Cut By The Yard | |
| Composition | 100% Solution-dyed acrylic fiber | |
| Weight | 9 oz/yd / 305 g/m | UNE-EN 12127:1998 |
| Available Width | 47" / 120 cm (standard)60" / 152 cm (limited colors) | |
| Type of fabric | Reversible acrylic | |
| Finish Process | Special "FOREVER" treatment for awnings that repels water and dirt, creating an anti-stain and anti-mould barrier, whilst allowing the canvas to breathe. | BS 7209:1990 |
| Finish | Fluorocarbon /Resin | |
| Standard roll length | 65.6 yards / 60 m | |
| Color range | 71 colors | |
| Use | Outdoor | |
| Marine applications | Awnings, Biminis & T-Tops, Boat Covers, Dodgers, Enclosures, Exterior Cushions, Sacrificial Sail Covers, Sail Bags, Sail Covers, Weather Cloths, Windshield Covers | |
| Outdoor Living applications | Awnings, Wire Hung Canopies & Pergolas | |
| RV & Auto applications | Awnings | |
| Warranty | 10 Year | |
| | | |
| Technical Features | Acryee Marine & Awning | Certification / Standard |
| Thickness | 0,55 mm | UNE-EN ISO 5084:1997 |
| Water column | ≥ 300 mm | UNE-EN 20811:1993 |
| UV Resistance | 1500 + hours | AATCC-16 |
| Abrasion Rating | 40,000 Rubs | ASTM-4157 |
| Hydrostatic | 40 cm | AATCC-127 Method B |
| Puncture Strength | 38 Ibs | ASTM-751 |
| Tensile strength warp | 287 Ibs | UNE-EN ISO 13934-1:2013 |
| Tensile strength weft | 149 Ibs | ASTM D-5034 Grab |
| Tear strength warp | 11.5 Ibs | ASTM D-2261 |
| Tear strength weft | 7.7 lbs | ASTM D-2261 |
| Shrinkage warp | 0.10% | Method 5804 |
| Shrinkage weft | 0% | Method 5804 |
| Stretch warp | 0% | ASTM D-2594 |
| Stretch weft | 0% | ASTM D-2594 |
| Elongation at break warp | 27.50% | UNE-EN ISO 13934-1:2013 |
| Elongation at break weft | 25.90% | UNE-EN ISO 13934-1:2013 |
| Color fastness to artificial light – Xenotest | 4-5 (Good – Excellent) Gray scale7-8 (Very good – Excellent) Blue scale | UNE-EN ISO 105 B02:2014 |
| Color fastness to artificial weathering – Xenotest | 4 (Good) Gray scale | UNE-EN ISO 105 B04:1998 |
| Oil repellency | ≥ 5 | UNE-EN ISO 14419:2010 |
| Water repellency | ≥ 5 | UNE-EN ISO 4920:2013 |
| Performance in saline environment | No blistering. No cracking. No change | UNE-EN ISO 9227:2012 |
| Resistance to chemical agents diluted in water | Window cleaning fluid – No changeAmmonia – No changeAlcohol – No changeBleach – No changeGrease removing detergent – Slight darkening | UNE-EN ISO 2812-1:2018 |
| Antimicrobial activity | Up to 99,99% bacteria growth reduction | AATCC Test Method 100-2012 |
| Antimicrobial activity | No fungi growth, fungistatic fabric – Grade 0 | UNE-EN ISO 846:1998 |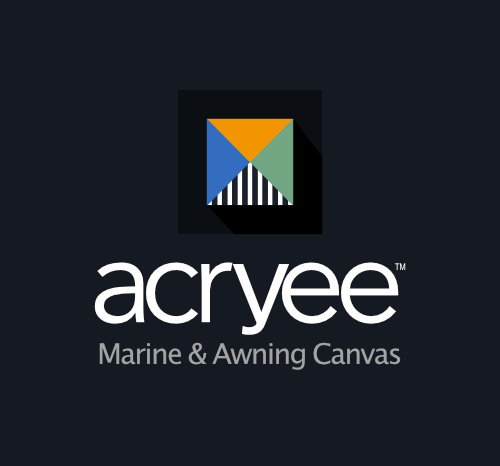 | Characteristics | Acryee Marine & Awning | Certification / Standard |
| --- | --- | --- |
| Unit Sale | Full Roll or Cut By The Yard | |
| Composition | 100% Solution-dyed acrylic fiber | |
| Weight | 9 oz/yd / 305 g/m | UNE-EN 12127:1998 |
| Available Width | 47" / 120 cm (standard)60" / 152 cm (limited colors) | |
| Type of fabric | Reversible acrylic | |
| Finish Process | Special "FOREVER" treatment for awnings that repels water and dirt, creating an anti-stain and anti-mould barrier, whilst allowing the canvas to breathe. | BS 7209:1990 |
| Finish | Fluorocarbon /Resin | |
| Standard roll length | 65.6 yards / 60 m | |
| Color range | 71 colors | |
| Use | Outdoor | |
| Marine applications | Awnings, Biminis & T-Tops, Boat Covers, Dodgers, Enclosures, Exterior Cushions, Sacrificial Sail Covers, Sail Bags, Sail Covers, Weather Cloths, Windshield Covers | |
| Outdoor Living applications | Awnings, Wire Hung Canopies & Pergolas | |
| RV & Auto applications | Awnings | |
| Warranty | 10 Year | |
| | | |
| Technical Features | Acryee Marine & Awning | Certification / Standard |
| Thickness | 0,55 mm | UNE-EN ISO 5084:1997 |
| Water column | ≥ 300 mm | UNE-EN 20811:1993 |
| UV Resistance | 1500 + hours | AATCC-16 |
| Abrasion Rating | 40,000 Rubs | ASTM-4157 |
| Hydrostatic | 40 cm | AATCC-127 Method B |
| Puncture Strength | 38 Ibs | ASTM-751 |
| Tensile strength warp | 287 Ibs | UNE-EN ISO 13934-1:2013 |
| Tensile strength weft | 149 Ibs | ASTM D-5034 Grab |
| Tear strength warp | 11.5 Ibs | ASTM D-2261 |
| Tear strength weft | 7.7 lbs | ASTM D-2261 |
| Shrinkage warp | 0.10% | Method 5804 |
| Shrinkage weft | 0% | Method 5804 |
| Stretch warp | 0% | ASTM D-2594 |
| Stretch weft | 0% | ASTM D-2594 |
| Elongation at break warp | 27.50% | UNE-EN ISO 13934-1:2013 |
| Elongation at break weft | 25.90% | UNE-EN ISO 13934-1:2013 |
| Color fastness to artificial light – Xenotest | 4-5 (Good – Excellent) Gray scale7-8 (Very good – Excellent) Blue scale | UNE-EN ISO 105 B02:2014 |
| Color fastness to artificial weathering – Xenotest | 4 (Good) Gray scale | UNE-EN ISO 105 B04:1998 |
| Oil repellency | ≥ 5 | UNE-EN ISO 14419:2010 |
| Water repellency | ≥ 5 | UNE-EN ISO 4920:2013 |
| Performance in saline environment | No blistering. No cracking. No change | UNE-EN ISO 9227:2012 |
| Resistance to chemical agents diluted in water | Window cleaning fluid – No changeAmmonia – No changeAlcohol – No changeBleach – No changeGrease removing detergent – Slight darkening | UNE-EN ISO 2812-1:2018 |
| Antimicrobial activity | Up to 99,99% bacteria growth reduction | AATCC Test Method 100-2012 |
| Antimicrobial activity | No fungi growth, fungistatic fabric – Grade 0 | UNE-EN ISO 846:1998 |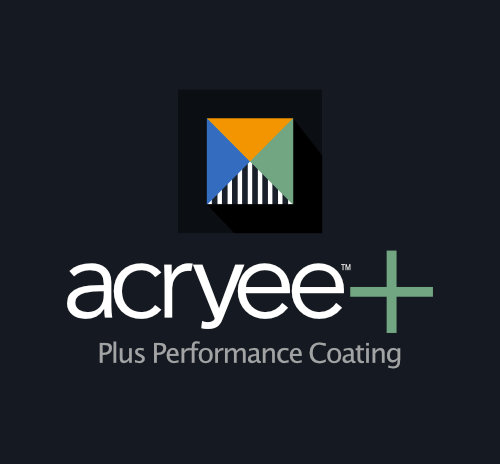 | Characteristics | Acryee Marine & Awning | Certification / Standard |
| --- | --- | --- |
| Unit Sale | Full Roll or Cut By The Yard | |
| Composition | 100% Solution-dyed acrylic fiber | |
| Weight | 9 oz/yd / 305 g/m | UNE-EN 12127:1998 |
| Available Width | 47" / 120 cm (standard)60" / 152 cm (limited colors) | |
| Type of fabric | Reversible acrylic | |
| Finish Process | Special "FOREVER" treatment for awnings that repels water and dirt, creating an anti-stain and anti-mould barrier, whilst allowing the canvas to breathe. | BS 7209:1990 |
| Finish | Fluorocarbon /Resin | |
| Standard roll length | 65.6 yards / 60 m | |
| Color range | 71 colors | |
| Use | Outdoor | |
| Marine applications | Awnings, Biminis & T-Tops, Boat Covers, Dodgers, Enclosures, Exterior Cushions, Sacrificial Sail Covers, Sail Bags, Sail Covers, Weather Cloths, Windshield Covers | |
| Outdoor Living applications | Awnings, Wire Hung Canopies & Pergolas | |
| RV & Auto applications | Awnings | |
| Warranty | 10 Year | |
| | | |
| Technical Features | Acryee Marine & Awning | Certification / Standard |
| Thickness | 0,55 mm | UNE-EN ISO 5084:1997 |
| Water column | ≥ 300 mm | UNE-EN 20811:1993 |
| UV Resistance | 1500 + hours | AATCC-16 |
| Abrasion Rating | 40,000 Rubs | ASTM-4157 |
| Hydrostatic | 40 cm | AATCC-127 Method B |
| Puncture Strength | 38 Ibs | ASTM-751 |
| Tensile strength warp | 287 Ibs | UNE-EN ISO 13934-1:2013 |
| Tensile strength weft | 149 Ibs | ASTM D-5034 Grab |
| Tear strength warp | 11.5 Ibs | ASTM D-2261 |
| Tear strength weft | 7.7 lbs | ASTM D-2261 |
| Shrinkage warp | 0.10% | Method 5804 |
| Shrinkage weft | 0% | Method 5804 |
| Stretch warp | 0% | ASTM D-2594 |
| Stretch weft | 0% | ASTM D-2594 |
| Elongation at break warp | 27.50% | UNE-EN ISO 13934-1:2013 |
| Elongation at break weft | 25.90% | UNE-EN ISO 13934-1:2013 |
| Color fastness to artificial light – Xenotest | 4-5 (Good – Excellent) Gray scale7-8 (Very good – Excellent) Blue scale | UNE-EN ISO 105 B02:2014 |
| Color fastness to artificial weathering – Xenotest | 4 (Good) Gray scale | UNE-EN ISO 105 B04:1998 |
| Oil repellency | ≥ 5 | UNE-EN ISO 14419:2010 |
| Water repellency | ≥ 5 | UNE-EN ISO 4920:2013 |
| Performance in saline environment | No blistering. No cracking. No change | UNE-EN ISO 9227:2012 |
| Resistance to chemical agents diluted in water | Window cleaning fluid – No changeAmmonia – No changeAlcohol – No changeBleach – No changeGrease removing detergent – Slight darkening | UNE-EN ISO 2812-1:2018 |
| Antimicrobial activity | Up to 99,99% bacteria growth reduction | AATCC Test Method 100-2012 |
| Antimicrobial activity | No fungi growth, fungistatic fabric – Grade 0 | UNE-EN ISO 846:1998 |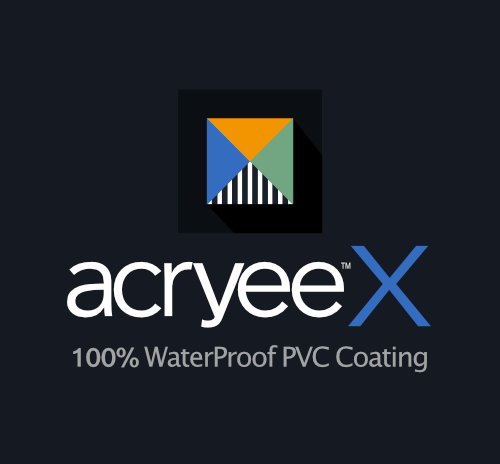 | Characteristics | Acryee Marine & Awning | Certification / Standard |
| --- | --- | --- |
| Unit Sale | Full Roll or Cut By The Yard | |
| Composition | 100% Solution-dyed acrylic fiber | |
| Weight | 9 oz/yd / 305 g/m | UNE-EN 12127:1998 |
| Available Width | 47" / 120 cm (standard)60" / 152 cm (limited colors) | |
| Type of fabric | Reversible acrylic | |
| Finish Process | Special "FOREVER" treatment for awnings that repels water and dirt, creating an anti-stain and anti-mould barrier, whilst allowing the canvas to breathe. | BS 7209:1990 |
| Finish | Fluorocarbon /Resin | |
| Standard roll length | 65.6 yards / 60 m | |
| Color range | 71 colors | |
| Use | Outdoor | |
| Marine applications | Awnings, Biminis & T-Tops, Boat Covers, Dodgers, Enclosures, Exterior Cushions, Sacrificial Sail Covers, Sail Bags, Sail Covers, Weather Cloths, Windshield Covers | |
| Outdoor Living applications | Awnings, Wire Hung Canopies & Pergolas | |
| RV & Auto applications | Awnings | |
| Warranty | 10 Year | |
| | | |
| Technical Features | Acryee Marine & Awning | Certification / Standard |
| Thickness | 0,55 mm | UNE-EN ISO 5084:1997 |
| Water column | ≥ 300 mm | UNE-EN 20811:1993 |
| UV Resistance | 1500 + hours | AATCC-16 |
| Abrasion Rating | 40,000 Rubs | ASTM-4157 |
| Hydrostatic | 40 cm | AATCC-127 Method B |
| Puncture Strength | 38 Ibs | ASTM-751 |
| Tensile strength warp | 287 Ibs | UNE-EN ISO 13934-1:2013 |
| Tensile strength weft | 149 Ibs | ASTM D-5034 Grab |
| Tear strength warp | 11.5 Ibs | ASTM D-2261 |
| Tear strength weft | 7.7 lbs | ASTM D-2261 |
| Shrinkage warp | 0.10% | Method 5804 |
| Shrinkage weft | 0% | Method 5804 |
| Stretch warp | 0% | ASTM D-2594 |
| Stretch weft | 0% | ASTM D-2594 |
| Elongation at break warp | 27.50% | UNE-EN ISO 13934-1:2013 |
| Elongation at break weft | 25.90% | UNE-EN ISO 13934-1:2013 |
| Color fastness to artificial light – Xenotest | 4-5 (Good – Excellent) Gray scale7-8 (Very good – Excellent) Blue scale | UNE-EN ISO 105 B02:2014 |
| Color fastness to artificial weathering – Xenotest | 4 (Good) Gray scale | UNE-EN ISO 105 B04:1998 |
| Oil repellency | ≥ 5 | UNE-EN ISO 14419:2010 |
| Water repellency | ≥ 5 | UNE-EN ISO 4920:2013 |
| Performance in saline environment | No blistering. No cracking. No change | UNE-EN ISO 9227:2012 |
| Resistance to chemical agents diluted in water | Window cleaning fluid – No changeAmmonia – No changeAlcohol – No changeBleach – No changeGrease removing detergent – Slight darkening | UNE-EN ISO 2812-1:2018 |
| Antimicrobial activity | Up to 99,99% bacteria growth reduction | AATCC Test Method 100-2012 |
| Antimicrobial activity | No fungi growth, fungistatic fabric – Grade 0 | UNE-EN ISO 846:1998 |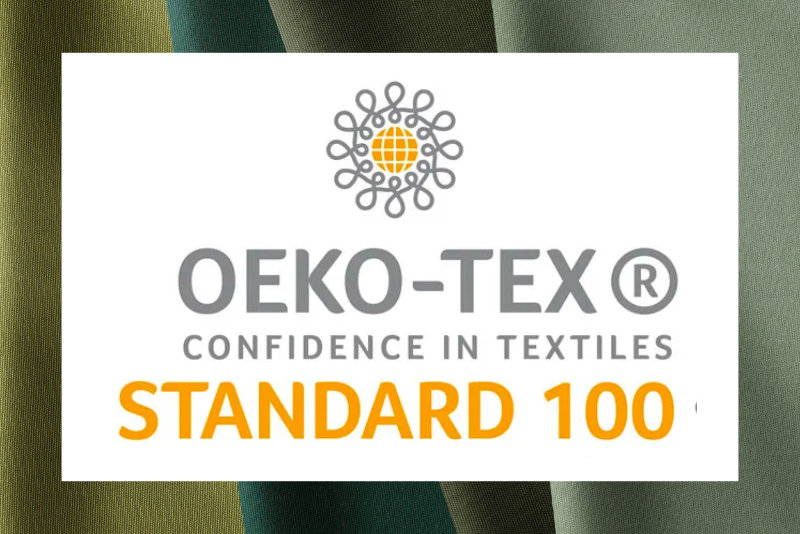 Acryee® High Performance Outdoor Fabrics are certified with Oeko-Tex Standard 100 seal, which indicates that none of our fabrics contain carcinogenic substances or volatile components and do not present danger to humans or the environment
All Acryee® fabrics are manufactured under the criteria and requirements of the ISO 9001 quality management system
Superior Solar Protection
Acryee® is the best option for protection from the sun. Its tight weave together with its quality of its fibers blocks up to 90% of harmful UV rays, reducing heat and glare. Our fabrics strictly comply with the UV Standard 801, a method of analysis to determine Ultraviolet Protection Factor (UPF).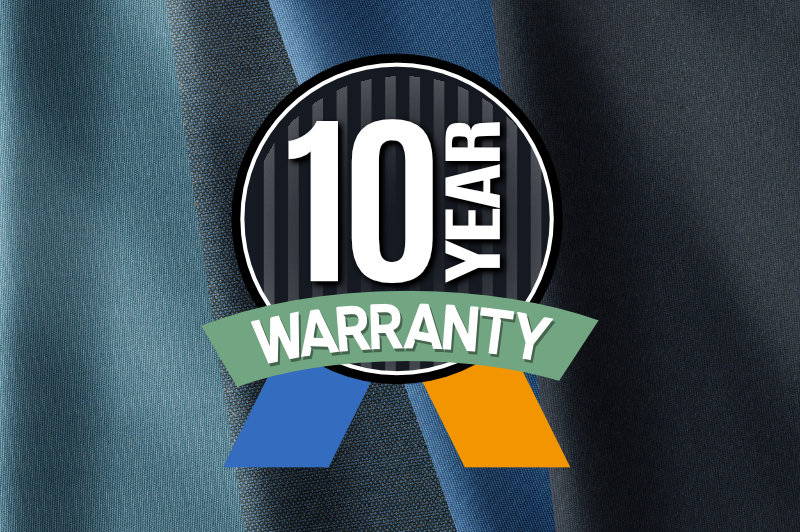 Our use of high quality raw materials and demanding manufacturing specifications provide Acryee® fabrics with unbeatable colorfastness, high mechanical resistance to abrasion, traction, tear, mold and mildew.
These features ensure Acryee® fabrics keep their strength , color and beauty for many years.

Our promise is really quite simple....
At Acryee we are dedicated to our providing customers with the best value and highest quality outdoor performance canvas ion the world.